Charlie's Manawakie Park & West Bay Beach Experience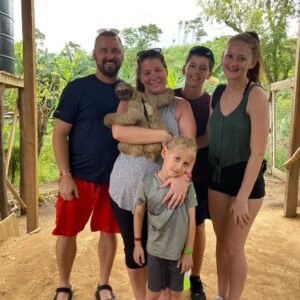 Buenas! Are you ready to explore the beautiful island of Roatan? If so, Charlie's Manawakie Park & West Bay Beach Experience is a perfect choice! One of our highly-rated tour guides will lead you on an unforgettable journey through Roatan's lush jungle terrain and stunning West Bay Beach. Your adventure will start with an exploration of the beautiful Manawakie Eco Nature Park. You'll then end your day in relaxation at the stunning West Bay Beach.
Manawakie Park
The park is located on the north side of the island in the jungle-shrouded community of Man O War Harbor. The area is also known as Hottest Sparrow. Throughout your time at the park, you'll learn about Roatan's rich history and culture. You'll also be able to interact with a variety of beautiful animals, from exotic birds to friendly monkeys and sloths!
West Bay Beach
Once you've had your fill of the exciting eco-park, your tour guide will take you to West Bay Beach, one of the best beaches in the Caribbean and Central American region! This stop is perfect for swimming, sunbathing, and simply enjoying the views. The sparkling ocean water and soft white sand will make you want to stay all day! Once your group is at the beach, you'll also have access to some much-needed Wi-Fi, an array of beach chairs, and plenty of comfortable showers.
The Town of West Bay
If you can manage to pull yourself from the amazing coastline, you can head inland to the actual town of West Bay. Stop in at one of the local cafes for the perfect afternoon boost, or browse through their many shops to find expertly-crafted products and souvenirs hand-made by locals of the island. Be sure to chat with the locals and get to know them. If they like you enough, they just may give you some fantastic recommendations on what to see and do!
Tourism in West Bay
There's no shortage of attractions to admire in West Bay. Send your tastebuds buds to heaven when you stop by the Roatan Chocolate Factory. The chocolate made there was recognized as the best in Central America and the Caribbean by the Salon Du Chocolat in Paris!
With the taste of chocolate in your mouth, you can head over to the Roatan Rum Company to wash it down with their sophisticated array of rums and other drinks. They also serve delicious rum cake that you absolutely cannot miss out on! While you enjoy your drinks and snacks, you can take in the spectacular view of the Caribbean Sea.
Before the sun goes down, make sure to snap a family photo at the famous Roatan sign!
What You Need to Know!
Your tour will be approximately 5+ hours long.
There is a minimum requirement of 2 people to book with us.
Our price is $55 per person
This price includes the cost of transportation around the island
For groups of 7 or more, the price is only $50 per person
You can also add on other fun activities like:

The Roatan Snorkeling Adventure, where you'll get to explore beautiful coral reefs, for an additional $35 per person
The Zipline-Dip Tour through the jungle for an additional $45 per person
Payments can be made with cash or through PayPal!
We would be honored to provide you with unforgettable memories of this stunning island. So what are you waiting for? Hurry over to our reservation page to book your tour today!
If you have any questions, please feel free to contact us by phone at +011-504-89213432 or by email at [email protected].